Thailand, Custom Men's Ruby Rings
While there are many reputed jewelry producers in Thailand manufacturing wholesale jewelry for world markets, finely crafted single piece jewels is another sector that Thai jewelry factories have excelled at. In this report we talk about quality men's ruby rings manufactured in Thailand. Ruby is a rare gem and the high price point of the red gemstone, reflects the rarity, beauty and durability of the gemstone. The best way to be ensured of a men's ruby ring, that is well crafted and sturdy is to go for a custom men's ring with ruby.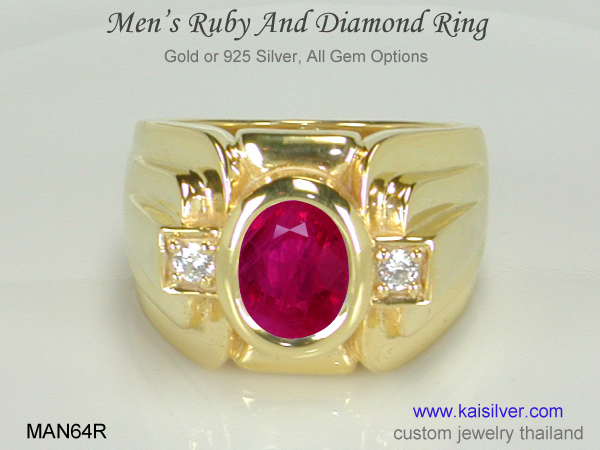 An impressive ruby gemstone ring for men, a large format ring finely crafted in gold or sterling silver. The center oval ruby gemstone is natural and certified and is flanked, by a glittering round diamond on either side ... more.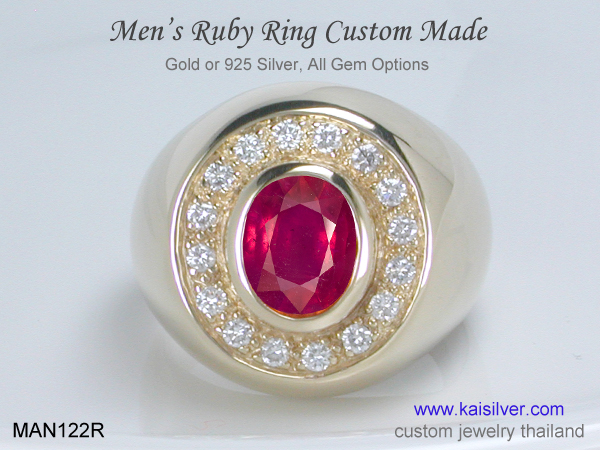 A sturdy ruby gemstone ring for men. The center certified natural ruby is surrounded by a row of glittering diamonds. Custom made in all ring sizes, request for a change in gem size or shape can be accommodated ... more.
A classy ruby diamond ring for men, the center square or octagonal gem is natural and certified for authenticity. Available in 10k / 14k / 18k white, yellow or pink gold and also in 925 silver and in all ring sizes ... more.
Crafted by Thailand's finest jewelry artisans, the RG215 is a classic and durable ruby band ring. Suitable for both men and women, this custom ruby ring from Kaisilver is available in 3 gold colors and sterling silver ... more.
While most men ordering a men's ruby ring from Thailand, prefer to have a big ruby gemstone. However the price logistics of the gorgeous red gemstone implies that, larger ruby sizes carry a premium price tag. It is for this reason that the design for a custom men's ruby ring, should consider the size of the ruby and the budget allotted for the ring. We might mention here that this entire report, refers to natural heated rubies and not, fissure filled (glass filled) or bulk diffused ruby gems.
Rubies have been heated to improve their color and transparency for centuries, this is an accepted prices and experts accept this for of treatment. The important thing is that the conventional heat treatment process, does not reduce the value of the gem or its toughness. Newer treatments that involve heating and diffusion have been used to treat rubies for the past couple of decades. Rubies treated through these processes, experience a significant drop in value and durability.
Men love ruby rings for various gemstones, it happens to be 1 of the most precious stones since ancient times. Ruby, sapphire (in all its colors), emerald and diamond are referred to as precious gems by gemologists. The red color of ruby looks awesome for both men and women, the exotic nature of the gem ensures that it can be worn on all skin and metal colors. Men born in the month of July have a special connection with the gemstone, ruby is listed as the birthstone for July.
There is no doubt that we would be seeing far more men's ruby wedding rings if only, the gemstone was more price friendly. However the rare nature of gem quality ruby and the fact that the demand for the red gemstone never eases, makes it very unlikely that ruby would ever become more affordable. Having said that, innovative jewelry design accommodating medium sized ruby gems can, deliver a ruby wedding ring for men at a reasonable price. The design should obviously give an impressive look to the ring but, limit the ruby gem size to the 2 to 3 carat range.
Married men celebrating their 15th, 40th or 80th wedding anniversary also have a special reading to wear a men's ring with ruby gemstone. Ruby is worn to mark those wedding anniversaries. Many stylists feel that, gems like ruby, sapphire and diamond are perfect to celebrate any anniversary and need not be limited to those specific years.
You could find a custom jewelry seller in Thailand for your men's ruby ring but, travelling all the way to the Asian country might not always be convenient. Fortunately the country has a few reputed online gem and jewelry providers who have, been in business for a few decades. Kaisilver happens to be one of the preferred online source for high end custom made jewelry, but is not the only one.
While getting a custom men's ring in gold or 925 silver with a ruby gem has many advantages, there are a couple of things that you will need to give special attention to. A truly custom men's ring should have no limitation on design or gem, you should be free to send in your own ring design to be custom made. Durability is an important factor that is most often ignored in mass produced jewelry. Features like optimized metal (gold or silver) weight based on ring size and dimensions, fine workmanship and a secure gem mount are absolutely essential for a men's ruby ring.
Most of the information provided above should ideally not be required if, you work with a reputed and responsible jewelry. To put it in simple terms, the above details are something that your jeweler should take care of. But since we do not live in a perfect world, it is a good idea for high end jewelry buyers to be aware of the essentials. It also makes it possible to perform a better comparison and evaluation when making a choice.