tanzanite earrings - jewelat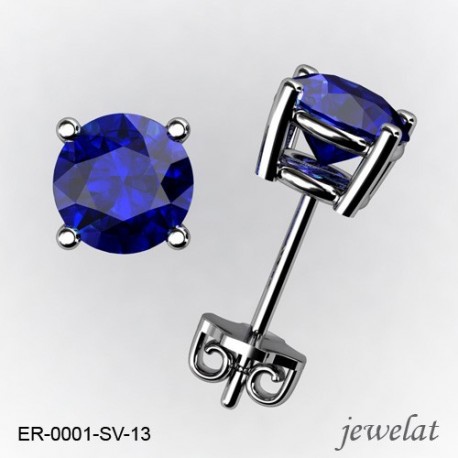 Tanzanite is rare, it is exotic and looks absolutely stunning on all skin colors - with all this goodness the gem just cannot be cheap, and this is why you should learn as much as possible about tanzanite earrings before making a purchase. In this Jewelat report we talk about both gold and 925 silver tanzanite gemstone earrings, the content has significant utility value and is therefore low on marketing hype. The gemstone has a gorgeous violet-blue color and belongs to the zoisite mineral family. The gemstone was named tanzanite after the country Tanzania where it was first found in the year 1967. The gemstone became an instant hit and high end jewelry buyers fell in love with it. The initial find was located at the foothills of Mount Kilimanjaro in Tanzania, the gem was present in a small strip of land - clearly there was not too much of tanzanite in that location. Gem mining ventures have for many decades, searched various locations in the world hoping to find more tanzanite resources. It is now agreed that there is no other country or location on earth where, gem quality tanzanite is found - the small stretch of land in Tanzania remains the sole source for tanzanite gems. It is quite impressive to know that, the gemstones in your tanzanite earrings would have come from that same location - this no matter where you buy your earrings from.
Tanzanite earrings can be generally found in gold or 925 sterling silver, the choice of metal is yours. When selecting a pair of gold or silver tanzanite gemstone earrings give importance to gem quality, workmanship and durability of the jewels. Modestly sized tanzanite gems can be quite affordable, ensure that the color is medium or darker - earrings with very light tanzanite gemstones can appear quite dull and boring. Going for large tanzanite gemstone earrings with big carat size on a limited budget, will most likely get you gems that are not of a very high standard. At a time when most jewelers give lower importance and attention to 925 silver jewelry, Jewelat maintains impressive gemstone and workmanship standards for both gold and 925 silver tanzanite earrings. You obviously wish to wear and enjoy your tanzanite earrings for many years and decades and for this, durability is of prime importance. We provide sufficient metal weight for all our jewelry, design features are incorporated to enhance the strength of the jewels.
Choosing the metal and metal color for tanzanite gems is relatively easy because, the stunning gem looks fine in just about every metal color that is used in jewelry production today. Gold tanzanite gemstone earrings can be ordered in yellow, white or rose gold and these color options are provided for 10k, 14k and 18k gold. Tanzanite is a modern gem with a contemporary and opulent appearance, your earrings will look even better if they are worn with light to moderate facial make-up. While Jewelat provides options for plating 925 sterling silver tanzanite earrings, we would like to disclose one important fact - any plating done on silver jewelry will come off after the jewels experience some wear and tear. It is true that the plating wear off on earrings will happen quite slowly because, these jewels are not put through heavy usage. We provide white rhodium, yellow gold and rose gold plating for sterling silver tanzanite earrings - there is a small plating fee that gets added to the price quoted once you pick an option from the drop down menu.
While we have no doubt that our tanzanite gemstone earrings would be simply irresistible to the casual or seasoned gem and jewelry lover, we urge you to keep these amazing beauties in mind when shopping for a gift. Tanzanite has been included in the official list of birthstone for the month of December. The gemstone is gorgeous and stylish to grace even the most extravagant bridal jewelry collection. Gift a pair of gold or 925 silver tanzanite earrings to your loving mother. The rare nature of the gem and its 'single location' source will be symbolic of the most important person in your life - mom. Recognize the hard work put in by a young scholar in the house, gift a pair of tanzanite earrings to your loving daughter who has just completed her graduation. It is not necessary to wait for a special occasion to gift a pair of these spectacular tanzanite earrings but, marking a special event or milestone with a well thought of jewelry gift adds significance to the occasion and the jewel.
Jewelat: A great source for quality jewelry in gold or 925 silver, our Online Jewelry Store showcases some awesome styles and gem options. But if it is earrings that you are looking for at the moment, skip into the Jewelat Earring Collection and admire the reasonably priced quality jewels. Review the gorgeous items in the Tanzanite Earring Collection, gold and silver tanzanite rings with good workmanship and gems selected by experts. These tanzanite gemstone rings are great for daily or occasional wear. And if you would like to invest in a tanzanite ring and earrings, as a tremendous addition to your jewelry wardrobe, take a look at our Tanzanite Ring Showcase and pick a ring that interests you. Get in touch with our support team at sales@jewelat.com with any questions that you might have, we will promptly get back to you with suitable suggestions and advice.